Going Off-Grid With Victron Energy
Learn more about off-grid system design, components and monitoring capabilities with Victron components
Connecting to the grid can be expensive, especially when you're located in an isolated part of the world, and a fair distance from utility connection options. When weighing up off-grid alternatives it can be easy to become overwhelmed with the array of manufacturers and components on the market, the design requirements, installer options and many more factors. For those unsure where to look for reliable components with proven performance in off-grid applications, Victron Energy is a good place to start. Victron offer a wide range of renewable energy products manufactured in the Netherlands – everything from small inverters & battery chargers to large scale commercial power hardware. With products built for high performance, efficiency & reliability, the range makes for the perfect off-grid energy source. 

VICTRON SYSTEM DESIGN


Your off-grid system design will be based off a variety of factors at your off-grid location, and the Victron components you utilise will change to suit these requirements based on your daily energy load requirements and the appliances you choose to run. Victron systems can be designed as a DC-Coupled system or an AC-Coupled system dependent on these factors. AC or DC coupling refers to the way your components are linked and configured together and the flow of energy between them.
"Dc solar electricity flows from solar panels to a charger controller that directly feeds into a battery system" – 

https://news.energysage.com/ac-vs-dc-solar-battery-coupling-what-you-need-to-know/
DC-coupled solar systems utilising Victron components feed DC electricity directly from the solar array to a Victron MPPT Solar Charger to regulate current and voltage that feeds directly to the battery back-up. From there, the solar battery feeds the DC electricity to the Victron Multiplus (battery inverter) to convert the energy to usable AC energy for your home appliances.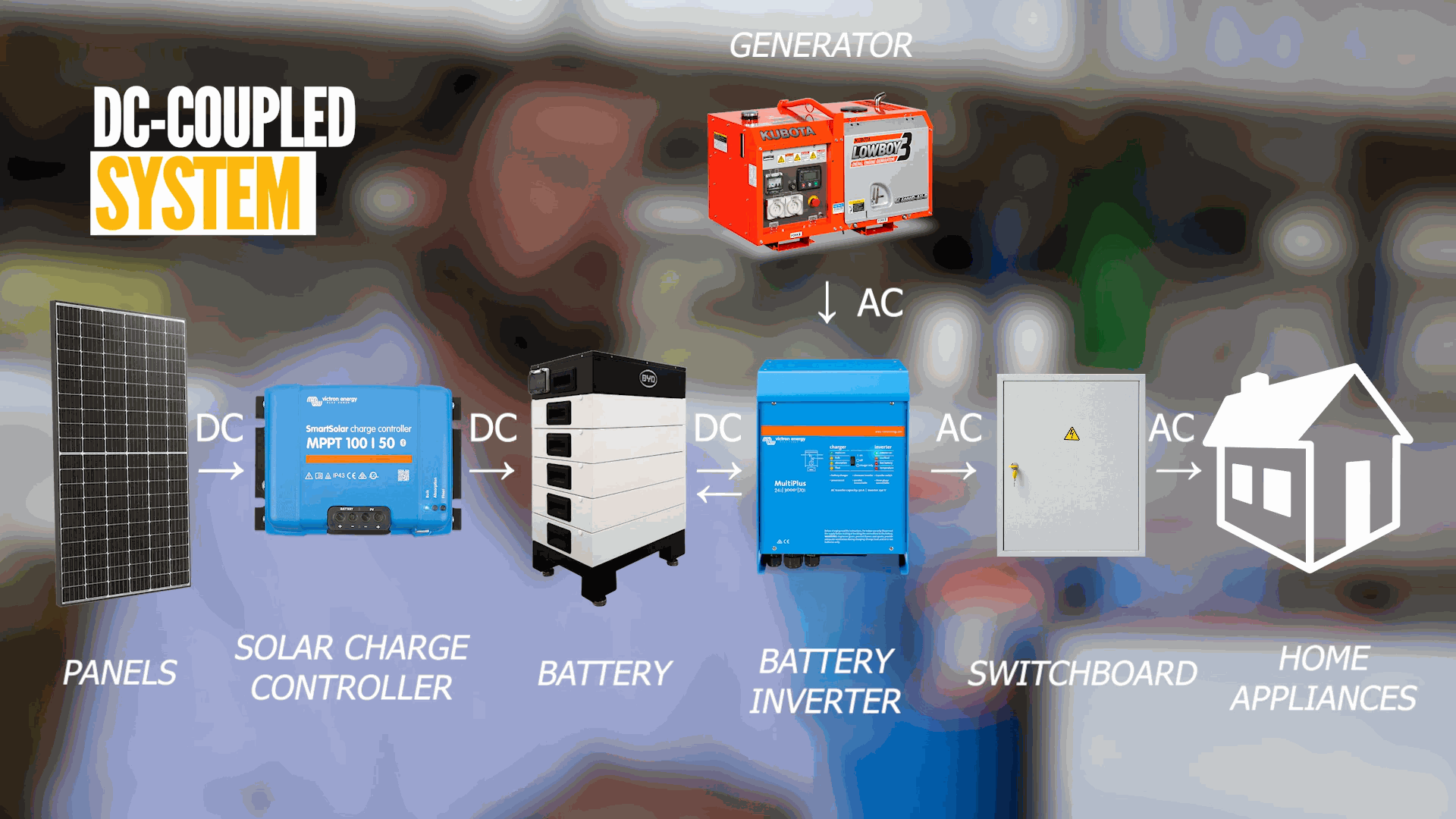 "AC-Coupled solar systems use modern solar inverters to covert solar DC power directly to AC which can then be used immediately by most appliances during the day" –

 https://www.cleanenergyreviews.info/blog/ac-coupling-vs-dc-coupling-solar-battery-storage
AC-coupled energy systems are often utilised in larger-scale off-grid scenarios with a certified off-grid inverter option. Where DC-coupled systems transfer energy straight from the solar array to the battery, AC-coupled systems send energy from the solar array straight to a solar inverter (like Fronius) before passing through the rest of the configuration. In the inverter DC energy is converted to AC and is passed directly to the residence as well as the multi-mode inverter to convert the energy back to DC energy for storage in the battery back-up.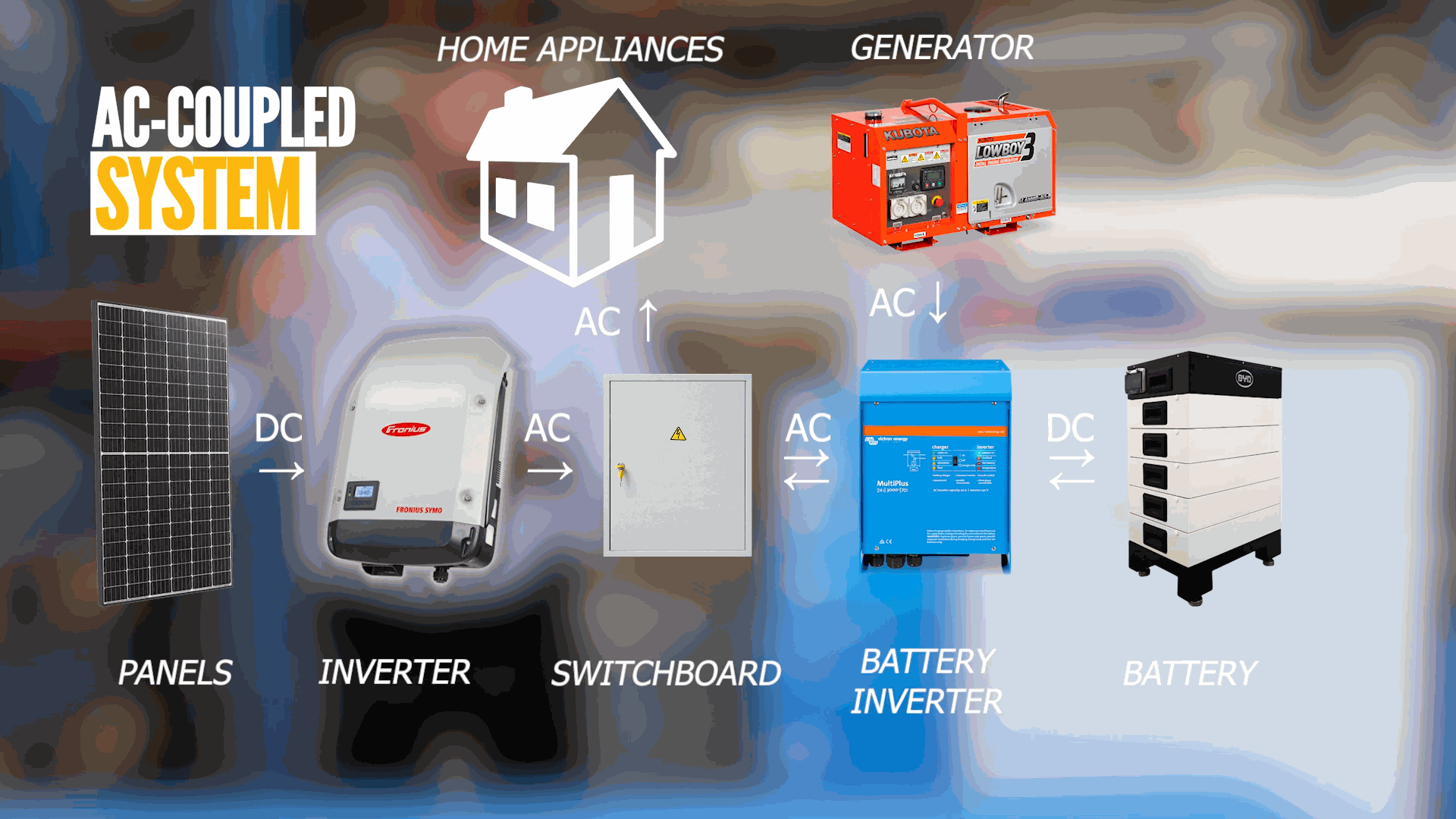 Victron inverters are rated as a voltage-ampere power output meaning the power input vs the power output may not match. A 5000VA Victron inverter might only give you 4000W of continuous power, so it is vital that this is sized correctly to meet the requirements of you peak load. 
BATTERY OPTIONS


While lead acid batteries have long been the go-to choice for off-grid solar installations, lithium-ion batteries have become the new standard for these applications. When working with a Victron off-grid system, there are two main outliers for battery options that we recommend.



BYD LVL batteries are a lithium iron phosphate battery that are scalable and stackable from anywhere between 15.4kWh-983kWh. Their high peak discharge capabilities make them ideal for off-grid applications where surging and irregular loads are apparent. Their smart design can deliver a useable energy ratio of 96%, far surpassing their lead acid competition. PowerPlus Energy batteries are an Australian made self-managed modular battery option with stackable and upgradable capabilities. These batteries come in 3.3kWh modules or 4kWh modules and are applicable in solar and storage, battery backup, energy shifting, peak lopping, and on or off-grid projects. With a 10-year warranty and 96-98% efficiency rating, the performance and reliability of these batteries make them a solid choice for off-grid applications.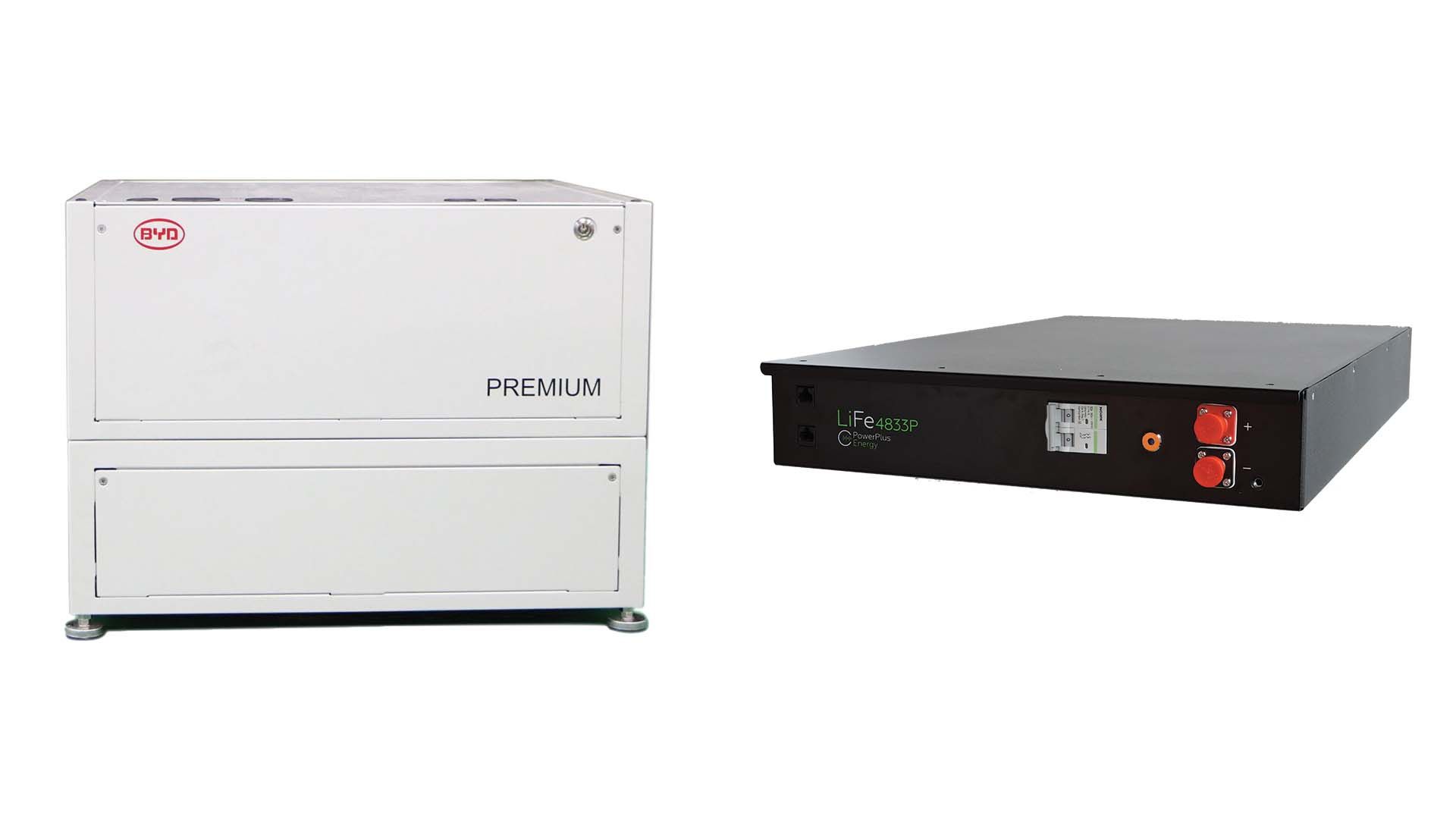 COMMUNICATION AND MONITORING 

One of the biggest advantages of going off-grid with Victron components is their high-level communication devices. Victron runs a local connection through Bluetooth to the VictronConnect app, as well as a web platform, called VRM to allow both customer and installers to monitor the system. Using the VictronConnect app, users are able to configure, monitor, update and diagnose individual components all within one place. This app is the perfect tool for installers to quickly and efficiently configure a system after wiring it and allows for quick and easy firmware updates.
The real time data and access allows users to monitor their systems locally and with the addition of a Colour Control, Venus or a Cerbo GX with an internet connection, this data will upload to the VRM portal. Here, this data can be monitored anywhere in the world, your installer can program and troubleshoot without a site visit, you can change generator start and stop times from anywhere and you can adjust quiet times on your system. It is this addition of seamless communication and monitoring through the Victron suite of products that make it such a popular and trouble-free choice for off-grid applications. 
HOW WE CAN HELP!
Springers Solar has been powering energy independence since 2002 and we a long list of satisfied off-grid customers. Our team of 60+ staff include two CEC stand alone power system design & install accredited  members as well as engineers, project managers and dedicated after sales support. If you would like to find out more about our off-grid offerings, fill out the below information and we will contact you as soon as possible.
Contact Us for a Free Quote
You can call us today, or fill out the form below for one of our experienced staff members to call you and discuss the quote. If you prefer an emailed response please make a note of that in the message. Make sure you also let us know what suburb you are from too