Enphase Microinverters 
Worldwide Leaders in Microinverters 

About Enphase...
Founded in California in 2008, Enphaseintroduced the world's first microinverter system to optimise energy production. Innovation, quality and responsibility is at the core of Enphase's ethos and the global technology innovator continues to launch new and improved solar energy products worldwide. 
Enphase products are modelled and engineered to excel in performance and reliability to outperform conventional solar systems.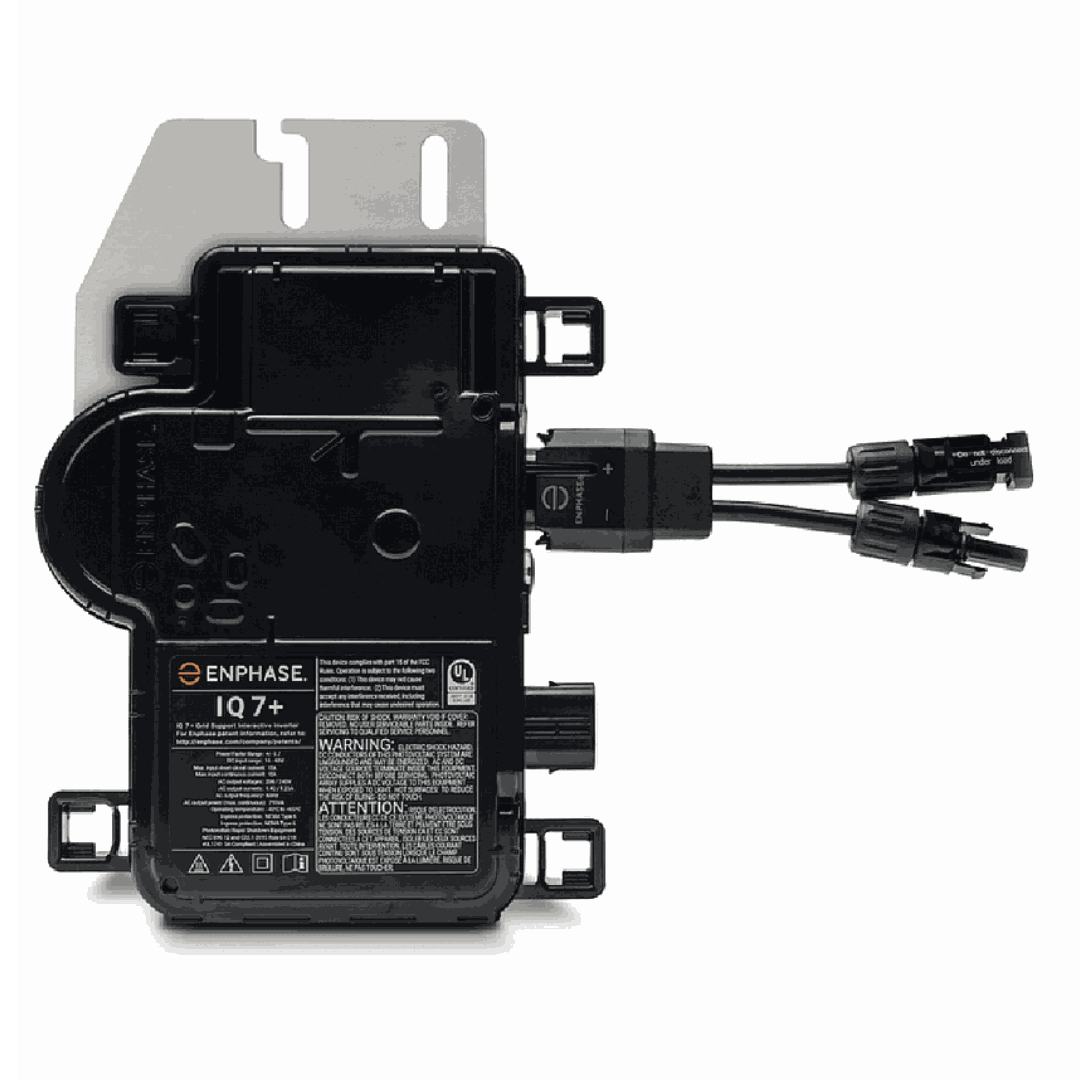 Product Information
The Enphase IQ System takes microinverter technology to the next level, offering the smartest and simplest inverter solution to date. Enphase Energy's IQ 7+ Microinverter was designed for modern high powered solar modules and is compatible with 60-cell and 72-cell panels up to 440 watts. 
Key Features:
Easy to install; lightweight and simple 
Built-in rapid shutdown compliant 
Optimised for high powered 60-cell and 72-cell modules 
More than a million hours of testing 
High production regardless of weather and conditions 
Complies with advanced grid support, voltage and frequency ride-through requirements 
Remotely updates to respond to changing grid requirements
The Enphase Difference...

Higher production, no matter the weather.
Every system receives a degree of shading throughout the day - and Enphase microinverters tolerate this shading better than others. Enphase inverters ensure all modules continue to perform even under environmental distresses (eg. dirt, birds and scratches).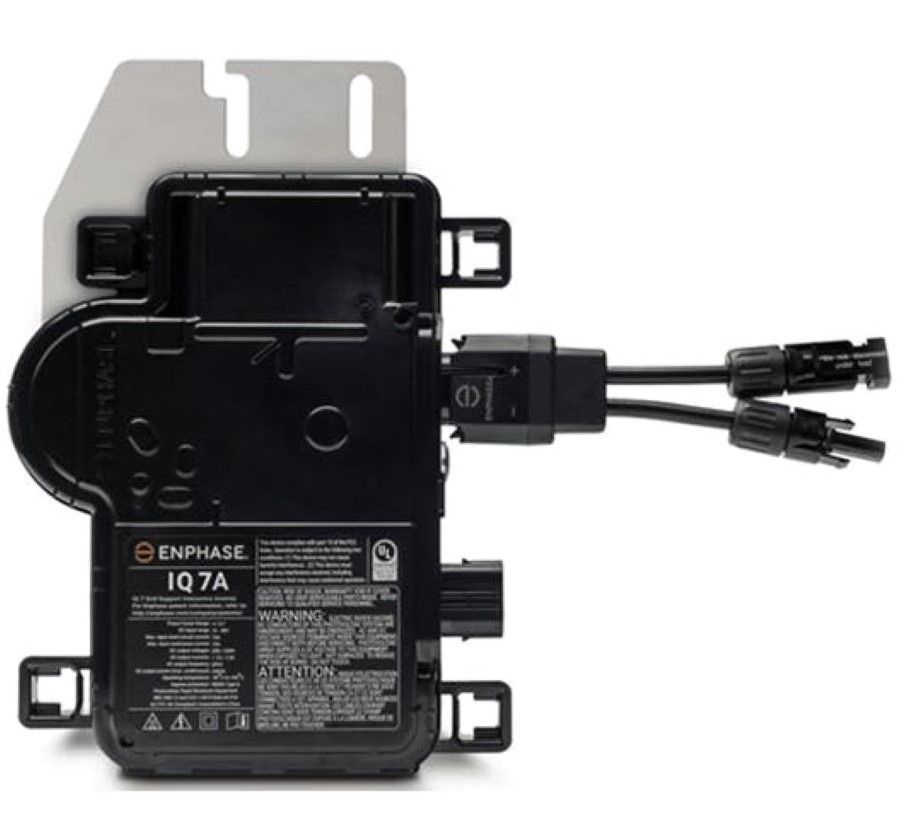 Product Information
The high-powered smart grid-ready Enphase IQ 7A Micro™ dramatically simplifies the installation process while achieving the highest system efficiency for systems with 60-cell and 72-cell modules. Enphase's seventh-generation microinverters are powered by unique software-defined architecture, offering an efficient design. 
Key Features:
Optimised for high powered 60-cell / 120-half-cell and 72-cell / 144-half-cell modules
Max Output Power: 366 VA @230 VAC
Made for high-power residentia solar applications
Configurable for varying grid profiles 
Complies with advanced grid support, voltage and frequency ride-through requirements
Highest EU efficiency of 96.5%
Enphase vs Competitors

Enphase Monitoring 
With Enphase Enlighten mobile App, you can check your system's status, performance and energy consumption all in one place. With an in-depth analysis of your system's health and production on your phone, you can quickly change modes and see how much charge your batteries have. 



You can view overall energy and per-panel energy production data within a single click as well as overviews of your energy consumption and storage (if applicable). Get it at the App Store or Google Play Store.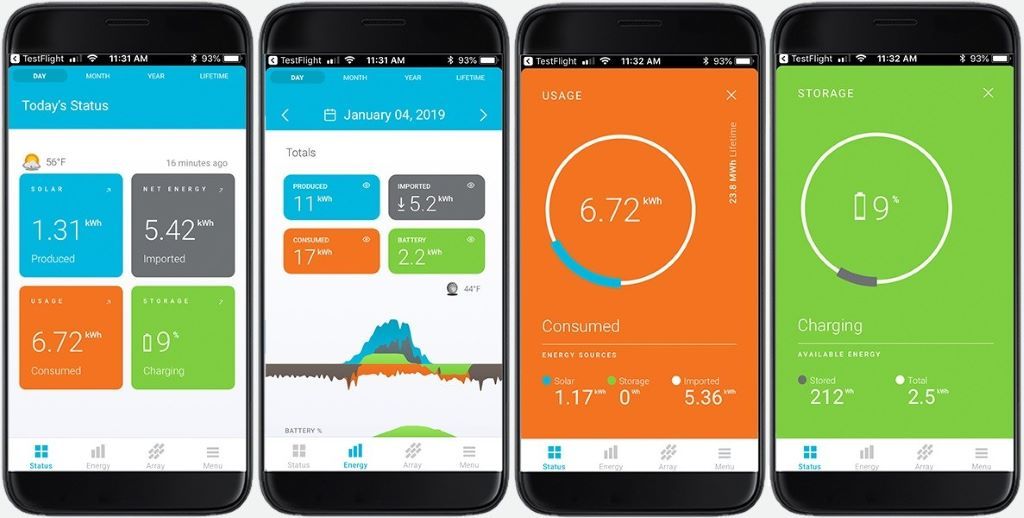 Why Springers Chooses Enphase
Higher Production, Best Savings 
Enphase microinverters are proven to produce more energy than other technologies.
Microinverters operate independently, so each panel performs to its fullest. One shaded or dirty panel won't affect the rest of the system.

Burst technology lets microinverters produce more at dusk, dawn and in low-light conditions 
More Reliable
These microinverters function independently and are inherently more reliable because of this.
If one panel goes down, the others won't go down with it

Enphase microinverters undergo the most rigorous testing in the industry 
Safer
Microinverters are safer than other inverter technologies 
An all-AC system means no high-voltage DC power on your roof

Enphase microinverters are commonly chosen for schools since they meet even the strictest government safety requirements


How Enphase Inverters Work...
Contact Us for a Free Quote
You can call us today, or fill out the form below for one of our experienced staff members to call you and discuss the quote. If you prefer an emailed response please make a note of that in the message. Make sure you also let us know what suburb you are from too