ENPHASE MICROINVERTERS BRISBANE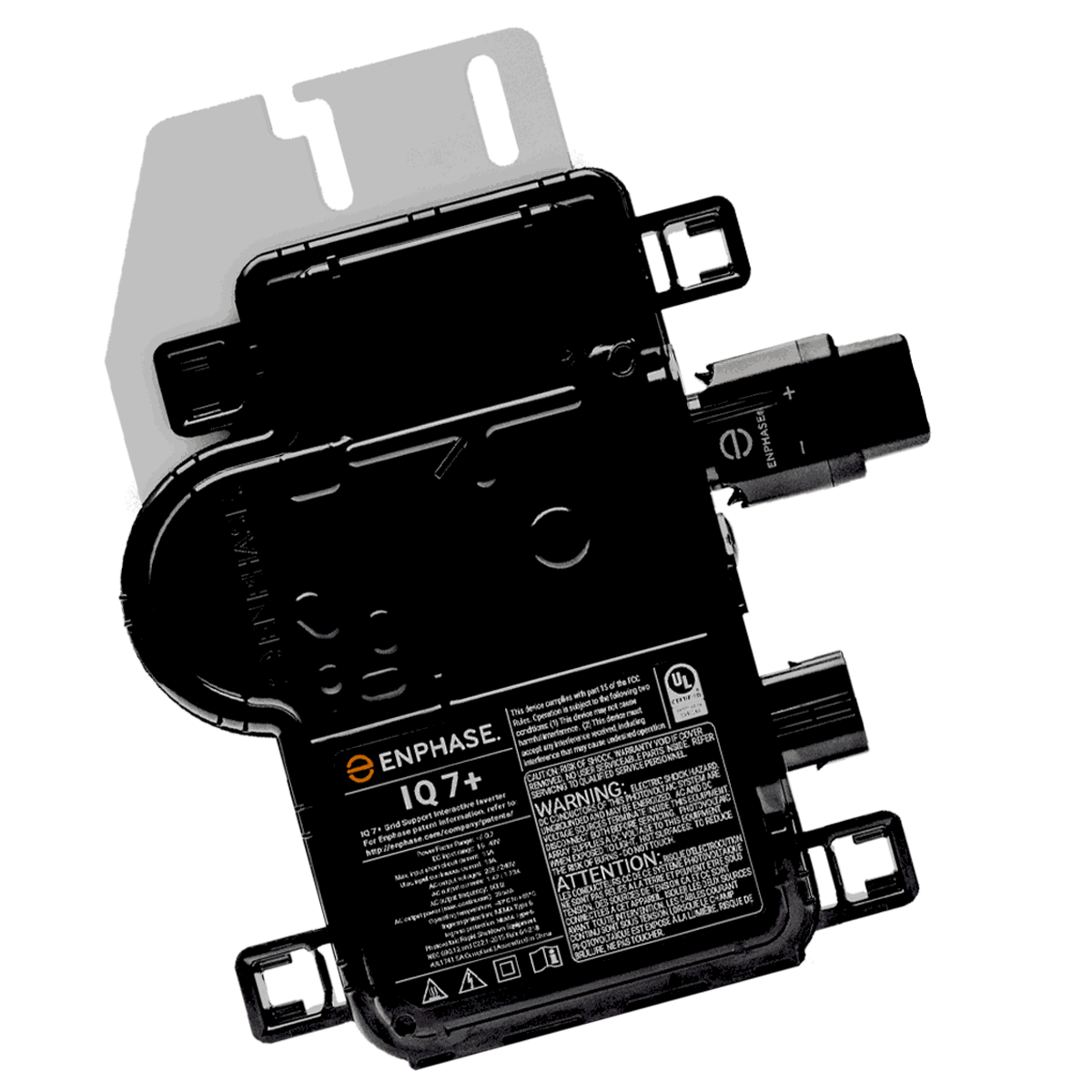 ENPHASE IQ 7+
The Enphase IQ System takes microinverter technology to the next level, offering the smartest and simplest inverter solution to date. Enphase Energy's IQ 7+ Microinverter was designed for modern high powered solar modules and is compatible with 60-cell and 72-cell panels up to 440 watts. The smart grid ready IQ 7+ Microinverter is built on their seventh-generation platform and achieves the highest efficiency for module-level power electronics while also reducing the installed cost per watt. The IQ 7 Micro series produces 4% more power and is 19% lighter and 17% smaller than the IQ 6 series backed by an industry-leading 10-year warranty.



The ENPHASE Advantage
Home energy systems are a long-term investment that you want to get right. Performance and Reliability are most important, and Enphase excels at both. At the same time, the Intelligence that's built into the Enphase technology offers you the flexibility to handle whatever the future might bring—from home expansions to smart home and smart grid integration.
Enphase is a name you can trust now and for years to come.
ENPHASE IQ7A
The high-powered smart grid-ready Enphase IQ 7A Micro™ dramatically simplifies the installation process while achieving the highest system efficiency for systems with 60-cell and 72-cell modules.
Part of the Enphase IQ System, the IQ 7A Micro integrates with the Enphase IQ Envoy™, Enphase IQ Battery™, and the Enphase Enlighten™ monitoring and analysis software. The IQ Series Microinverters extend the reliability standards set forth by previous generations and undergo over a million hours of power-on testing, enabling Enphase to provide an industry-leading warranty of up to 25 years. 
Enphase Monitoring
With the Enphase Enlighten mobile app, you can check your system's status at-a-glance without scrolling and still dive into the details of your system's health and performance, per-panel production all while on-the-go.You can view overall energy and per-panel energy production data within a single click as well as overviews of your energy consumption and storage (if applicable). Get it at the App Store or Google Play Store.
Check on your storage system

If your system has a storage system, you can quickly see how much charge your batteries have





The smarter choice in solar technology.


Higher production, best savings
Enphase microinverters are proven to produce more energy than other technologies.
• Microinverters operate independently, so each panel performs to its fullest. One shaded or dirty panel won't affect the rest of the system.
• Burst technology lets microinverters produce more at dawn, dusk, and in low-light conditions, for a longer solar day.
More reliable
Because they function independently, microinverters are inherently more reliable: there's no single point of failure in a microinverter system. Plus, we're obsessive about quality, and our products reflect that.
• If one panel goes down, the others won't go down with it.
• Enphase microinverters undergo the most rigorous product testing in the industry.
• Enphase stand by their products with the industry's highest warranties.
Safer
Microinverters are safer than other inverter technologies.
• An all-AC system means no high-voltage DC power on your roof. 
• Enphase Microinverters are commonly chosen for schools, since they meet even the strictest government safety requirements.



Contact Us for a Free Quote
You can call us today, or fill out the form below for one of our experienced staff members to call you and discuss the quote. If you prefer an emailed response please make a note of that in the message. Make sure you also let us know what suburb you are from too
(07) 3889 8898
704 Gympie Rd
Lawnton, QLD 4501
120 Redland Bay Rd
Capalaba, QLD 4157