FRONIUS INVERTERS BRISBANE
INNOVATIVE
Again and again, Fronius sets new standards worldwide with revolutionary products and new technologies, combining innovative flair with the highest levels of quality.
DEPENDABLE YIELDS
By choosing Fronius, you are selecting the fastest service plan on the market. Trained Fronius Service Partners are able to carry out repairs on site – without having to replace the device right away! This saves INNOVATIVE time and money – and safeguards your yields.

20 YEARS OF QUALITY
As the global quality leader, the Austrian family owned company has been a byword for safety and reliability for 70 years. During this time, Fronius has produced inverters with a total power output of more than 5 gigawatts, which more or less equates to the output of five nuclear power stations. All Fronius inverters are thoroughly tested and come with a Fronius manufacturer's warranty of up to 20 years, offering you a degree of security that goes well beyond that required by law. You'll never have any worries with a Fronius system – and that's a guarantee!
FUTURE PROOF
A great deal of attention was paid during the development stage to ensure that the inverters could be easily upgraded to accommodate future requirements, thus keeping them completely up to date at all times.

Say Goodbye to Rising Energy Costs
The price of energy is rising, a fact reflected in every electricity bill you receive. The solution: become an independent electricity producer and free yourself from future price increases.
By using a photovoltaic system you are making a major contribution to the energy revolution and an environmentally friendly energy supply. In contrast to fossil fuels, the sun will never run out and every kilowatt-hour (kWh) of solar power saves CO2.
1. Photovoltaics
But what is photovoltaics? Photovoltaics is a method of generating electrical power by converting solar radiation through the use of solar cells

2. Inverter
The direct current from the solar modules is converted by an inverter into the alternating current typically used in households.

3. Meter
It is then fed into the public grid via an electricity meter or consumed directly by the electrical appliances in the home.
4. Battery
With a storage unit, the power from the photovoltaic system can be used day and night. The surplus energy from the photovoltaic system is stored in a battery and is then available for use during the evening and at night.

FRONIUS GALVO
1.5 – 3.1 kW
1-phase

FRONIUS PRIMO
3.0 – 8.2 kW
1-phase

FRONIUS SYMO
3.0 – 20.0 kW
3-phase
The Heart of Your PV System        
Fronius inverters are efficient, reliable and form the indispensable heart of every PV system. Besides converting the direct current into alternating current, the inverter also carries out a number of other important functions within a photovoltaic system. These include the entire management of the system, data communication and ensuring the safety of the system – the choice of the inverter is, therefore, something that should not be left to chance!
The Fronius Galvo, Fronius Primo, Fronius Symo und Fronius Symo Hybrid inverter series give you the ideal inverter for your home. Power categories from 1.5 to 20.0 kW promise suitability for practically every system size. With an integrated energy management relay, the inverters are also perfectly optimised for your self-consumption system. Now, for the first time, the inverters are also equipped with a WLAN interface inside the device. Your photovoltaic system is therefore wirelessly connected to the internet so you can call up your system data whenever you want.
Fronius Energy Package
With the Fronius Energy Package storage solution, you can use the solar power day and night. The surplus power that is generated during the day with the Fronius Symo Hybrid inverter is stored in the Fronius Solar Battery and can be called on at any time. Lithium-iron phosphate technology is used for the storage solution and impresses with its long service life and maximum efficiency. Other benefits: you can easily integrate the storage solution into an existing photovoltaic system, or purchase the Fronius Symo Hybrid inverter now and retrofit the storage unit at a later date. Also a possibility.
Sun by day, sun by night and sun during power outages. Thanks to the three-phase emergency power supply, you can ensure that your household is supplied with electricity even during power outages. Simply arrange for the photovoltaic system to be installed accordingly.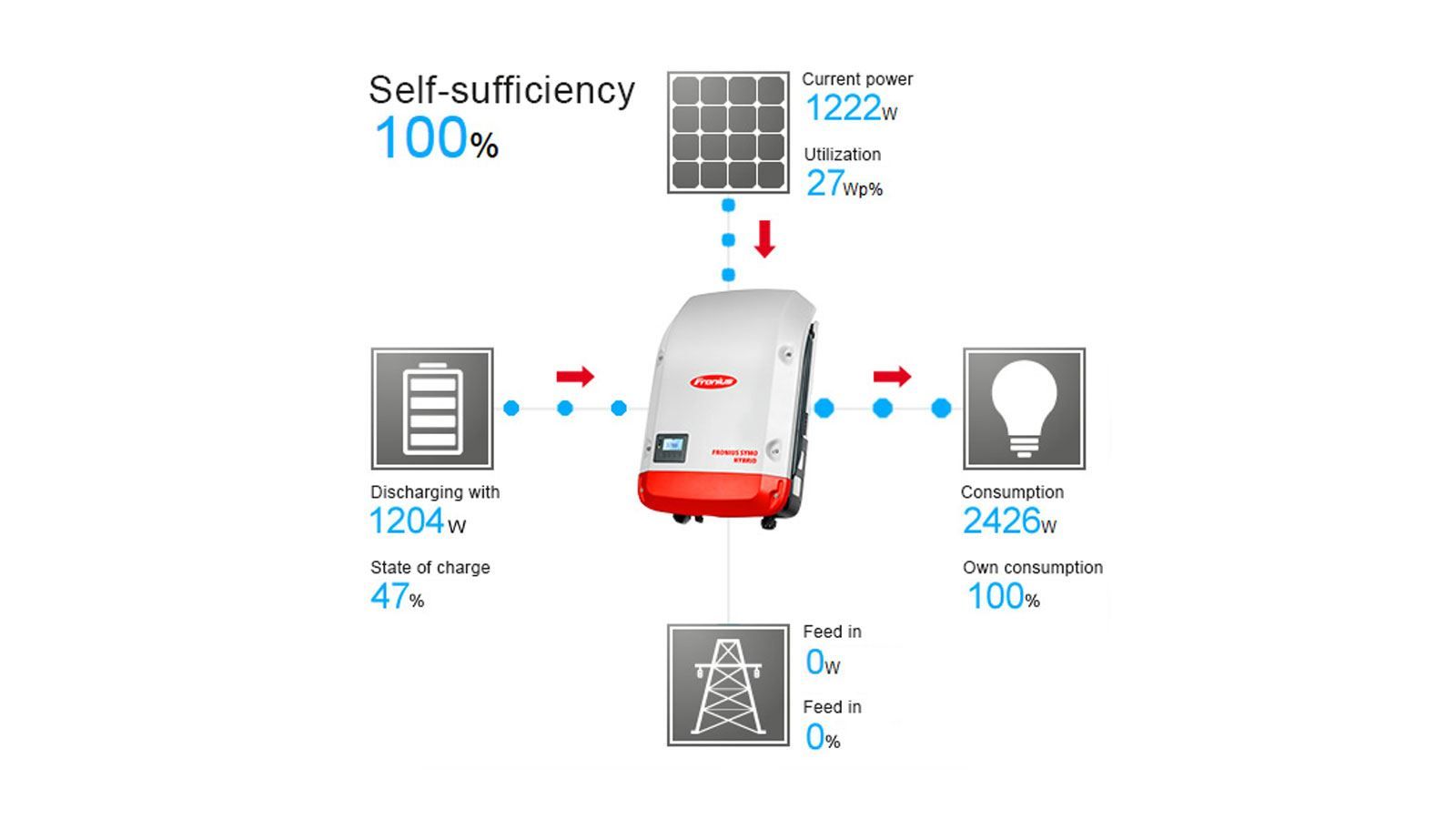 Self-Consumption Pays Off
Self-consumption means that the self-generated solar power is used immediately within your property and is not fed into the grid. This increases your own level of autonomy and frees you from the burden of future hikes in energy prices. In many countries, the price of self-generated solar power is already cheaper than the cost of purchasing electricity from the grid! A high proportion of self-consumption also ensures rapid payback of the cost of your photovoltaic system. Your aim must be to use as much of the solar power you generate as possible.
How can I Increase my level of Self-Consumption?
BUILD THE SYSTEM TO MATCH YOUR NEEDS
The key to being able to use a large proportion of the power you generate in your own home is to match the size of the system to your own power needs. The system should not be too large – particularly if the feed-in tariff in your country is low (or non-existent). Even if your roof does not face due south, a PV system is still a worthwhile investment. For instance, an east-west system delivers power earlier in the morning and later in the evening than a north-facing one.
MODIFY YOUR CONSUMPTION PATTERN
Make more use of your domestic appliances (washing machine, dishwasher, etc.) when the sun is at its strongest.
INTEGRATED ENERGY MANAGEMENT
Fronius inverters with the energy management feature allow consumers to be switched on and off according to how much power is currently being generated.
CONVENIENT HOME AUTOMATION
The open interfaces on Fronius inverters facilitate straightforward integration into home automation systems. In addition to maximum convenience, these also ensure efficient energy management throughout the home. Electrical devices can be switched on and off from a tablet or a smartphone according to the time, weather, etc. Fronius has teamed up with Loxone to offer an extremely simple and easy to use system.
PHOTOVOLTAIC SYSTEM WITH STORAGE UNIT
In order to use as much as possible of the energy you have generated yourself, it is worth storing the surplus energy for when it is required later. With the Fronius Energy Package, it is even possible to store the solar power for use the next morning.
Contact Us for a Free Quote
You can call us today, or fill out the form below for one of our experienced staff members to call you and discuss the quote. If you prefer an emailed response please make a note of that in the message. Make sure you also let us know what suburb you are from too