SOLAREDGE INVERTERS & OPTIMISERS BRISBANE

Smart Energy Products
Designed to automatically use the PV system's excess power to increase solar energy usage, SolarEdge's smart energy products help the homeowner achieve lower electricity bills, increased energy independence, and greater convenience. The smart energy suite combines PV production, storage management, and home automation, all under the control of a single SolarEdge inverter. SolarEdge's smart energy products feature wireless communication with the SolarEdge inverter and are ideally suited for a variety of home automation applications. 

Smart Energy Hot Water
Wireless controller which automatically diverts excess PV energy to provide hot water and highly cost-effective energy storage, integrated with the SolarEdge monitoring platform. Suitable for purely resistive loads up to 5kW.

Smart Energy Relay
Wireless relay for controlling high loads using an external control interface, such as smart grid-ready supported heat pumps.

Smart Energy ZigBee® Plug-in
A smart energy ZigBee plug-in is required to support smart energy functionality.

Smart Energy Configuration
Full visibility and control of all products are available via the smart energy mobile application and the monitoring platform. For device configuration via the monitoring app, the Ethernet connection is required first. The cellular connection may be used; requires a SIM card with a 1GB data plan that should be purchased from a cellular provider.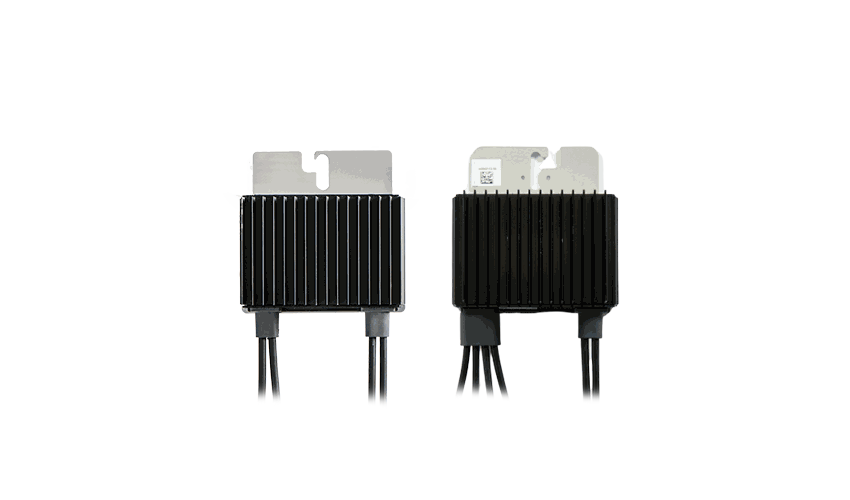 Power Optimiser
The SolarEdge power optimiser is a DC/DC converter which is connected by installers to each solar panel, turning them into smart panels. The SolarEdge power optimisers increase energy output from PV systems by constantly tracking the maximum power point (MPPT) of each panel individually. Furthermore, the power optimisers monitor the performance of each panel and communicate performance data to the SolarEdge monitoring platform for enhanced, cost-effective panel-level maintenance. Each power optimiser is equipped with the unique SafeDC™ feature which automatically reduces panels' DC voltage to a safe level whenever the inverter or grid power is shut down (unless connected to a StorEdge inverter operating in backup mode).
Panel-level MPPT        
The MPPT per panel allows for flexible installation design with multiple orientations, tilts and panel types in the same string.  When working with SolarEdge inverters, the power optimisers automatically maintain a fixed string voltage, allowing installers even greater flexibility with longer strings and strings of different lengths in order to design optimal PV systems. The SolarEdge power optimisers are compatible with c-Si, thin-film, and high current panels, and have a 25-year warranty.
Key Features        
• Per-panel Maximum Power Point Tracking (MPPT), with MPPT per two panels using commercial power optimisers
• Superior efficiency (99.5% peak efficiency, 98.8% weighted efficiency)
• Mitigates all types of panels mismatch-loss, from manufacturing tolerance to partial shading and aging
• Designed for extreme environmental conditions
• 25-year reliability and warranty
• Advanced, real-time performance measurement
• Automatic panel DC voltage shut-down for installer and firefighter safety
• Connected by installers to c-Si, thin-film, and high current (including bi-facial) panels
• Available as a frame-mounted in advance, for quicker installation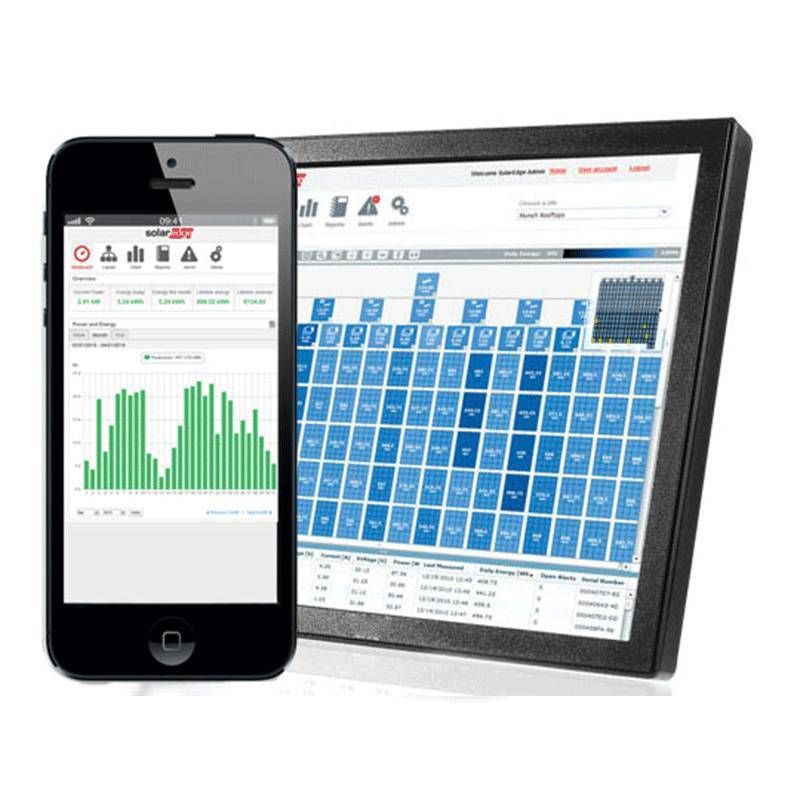 Solar Monitoring
The monitoring platform provides enhanced PV performance monitoring and yield assurance through immediate fault detection and alerts at the module level, string level and system level.
No hardware or wiring is required to transmit data from the power optimizers to the inverter: the monitoring sensors and transmitters are built into the SolarEdge power optimizer and solar inverter, and measurement data is transmitted over the regular power lines.
 
Download the monitoring app
KEY FEATURES                    
• Full visibility of your system's technical and financial performance, including interactive charts and site layout 

• Visualization of PV production, building consumption, and self-consumption

• Data presented at the module-level, string-level and system level 

• Comprehensive site-level and fleet-level reporting and analysis tools with an option to schedule automatic reports and export reports

• Effective fleet management and improved O&M capabilities:

            • Automatic alerts on system issues

            • Remote troubleshooting and access to real-time system data and guided root-cause fault analysis

            • High-resolution data, including historical and aggregated views with comparative analysis diagnostics

• Easy access from a computer, smartphone, or tablet

• Multiple options for social sharing and public display to drive referrals and generate leads

• Free for 25 years




All these features enable integrators, installers, maintenance staff, and system owners to improve the site performance, assure the yield of the system, maximize solar power harvesting and reduce maintenance costs by increasing system up-time and resolving faults more effectively.


The physical layout of the monitoring platform allows you to monitor systems at the module level, and pinpoint issues to the exact location of each module on a virtual site map. To create and edit your site's physical layout quickly and easily, use the SolarEdge Mapper application or the web-based layout editor.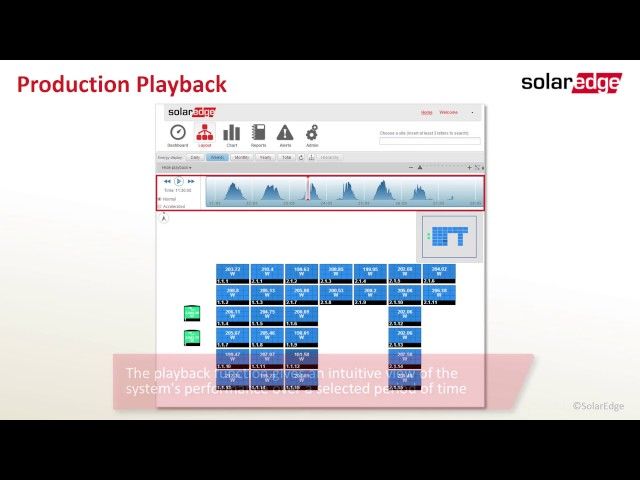 Monitoring capabilities for residential systems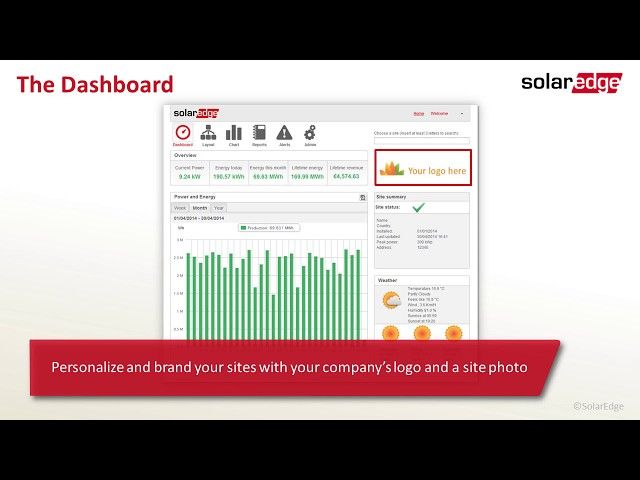 monitoring capabilities for commercial systems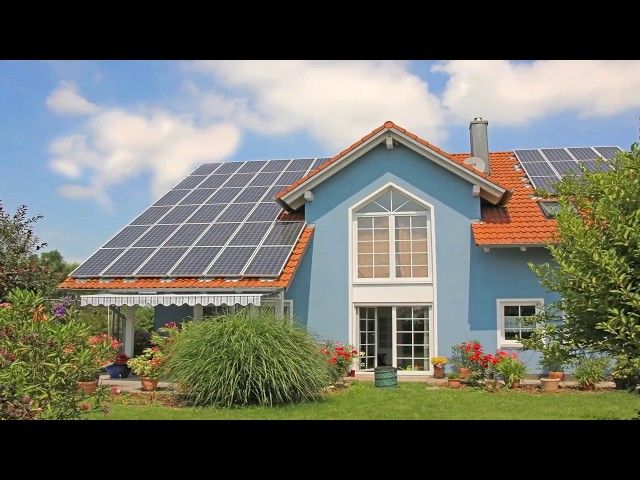 monitoring capabilities for StorEdge systems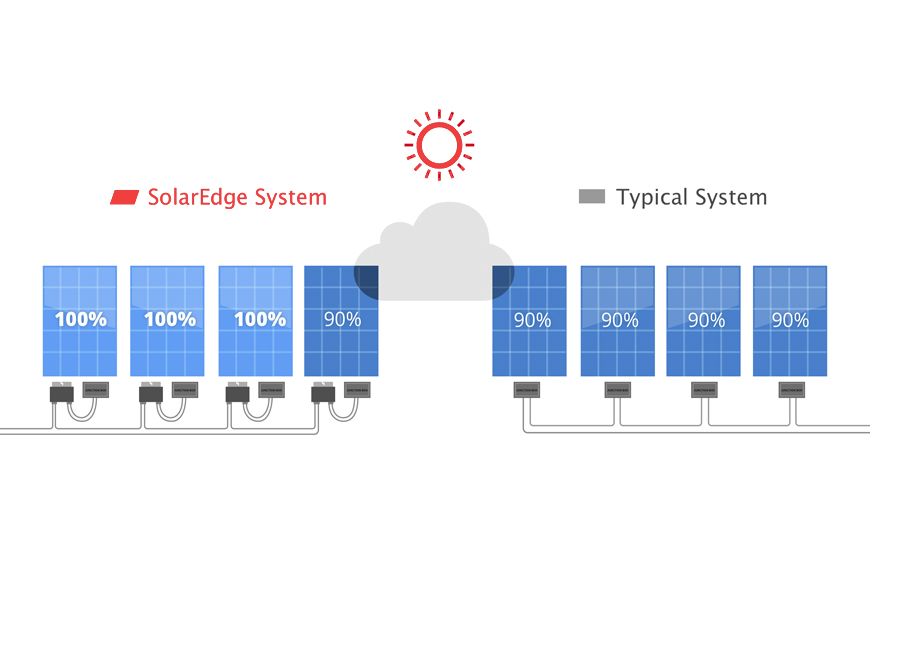 More Energy
Harvest More Power from Each Panel
SolarEdge enables more energy generation from each solar panel by mitigating power losses that result from a mismatch between panels. Weaker panels do not affect the performance of strong ones. The SolarEdge system is future-proofed against potential risks that could cause decrease lifetime energy production.

Mismatch sources include panel soiling or shading, uneven panel aging and panel output that can vary by ±3% from manufacturing, enough to result in ~2% energy loss.
Homeowner Value
More power = More revenue for faster system payback, and more savings on their lectricity bill.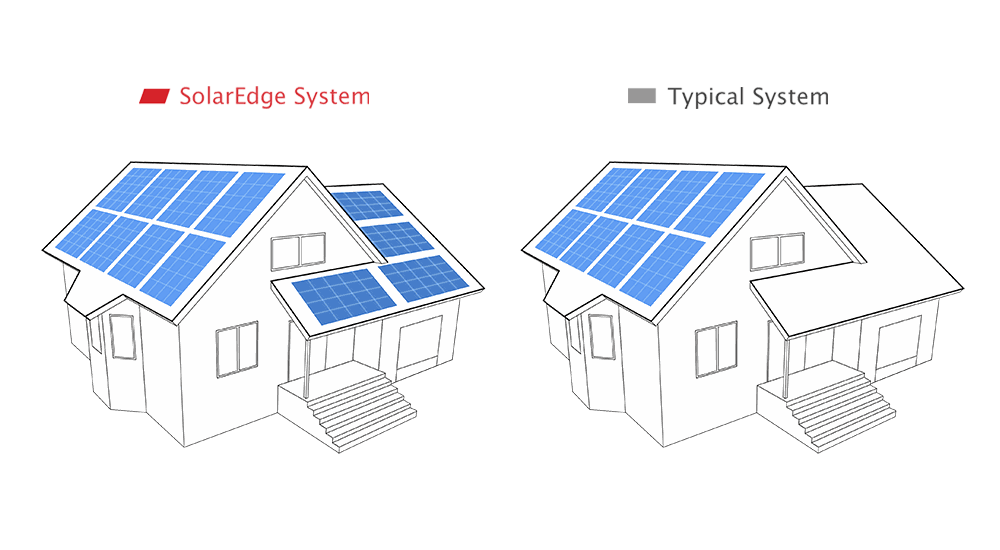 Flexible Design
Install More Panels on the Roof
Increase your profit on every residential installation by selling more panels, with no extra customer acquisition or installation costs. The SolarEdge topology enables efficient use of all available roof space through unprecedented design flexibility, including:
Parallel strings of uneven lengths

Panels in multiple orientations with different roof facets in a single string

Panels in shaded areas

Panels of different capacities in a single string, for easy panel replacement or future expansion
Homeowner Value
More panels on the roof = More power, more revenue, and more aesthetic rooftops.
Full Visibility
System Monitoring from the Palm of Your Hand
The SolarEdge monitoring platform delivers panel-level insights of the PV system, ensuring that it is performing to the best of its ability at all times.
• Free panel, string, and system-level performance monitoring for the system lifetime
• Remote troubleshooting and pinpointed system alerts, contributing to less time on site and reduced maintenance costs
• Easy access to complete system status, from any computer or mobile device, anytime, anywhere
• Numerous options for connecting to the monitoring server, including hardwired
• Ethernet, Wi-Fi, ZigBee®, and cellular connectivity
Homeowner Value
Real-time monitoring of system performance helps to protect the homeowners' investment.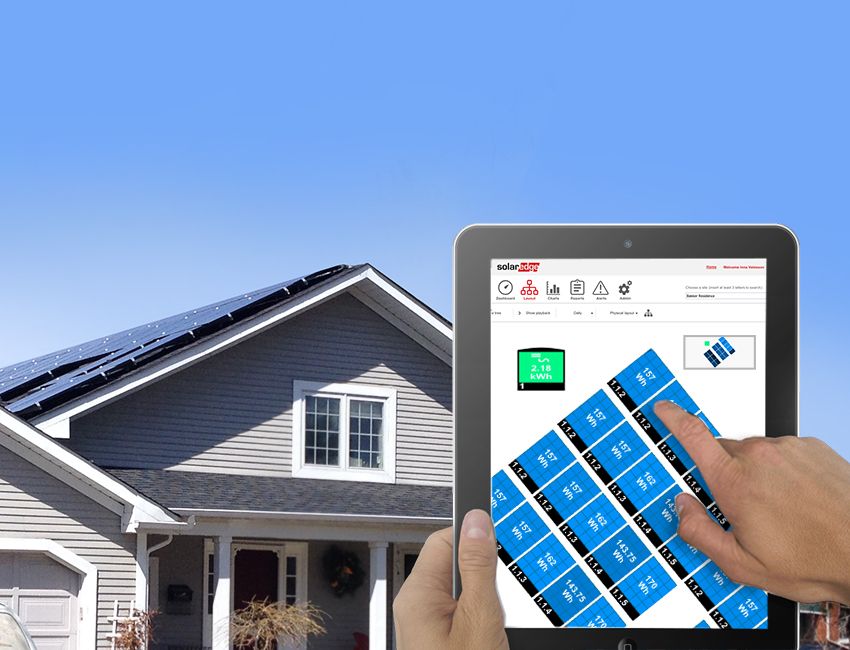 Superior Safety
Keeping PV Installers and Homeowners Safe
Traditional Systems
As long as the sun is up, PV wires are energised with high DC voltages posing a risk to people and property.
SolarEdge Systems
Built-in SafeDC™ feature, designed to reduce high system voltage to a safe level upon AC or inverter shutdown. This provides maximum protection to people and property
Compliant with the most advanced safety standards
Compliant with the UL1699B arc detection standard, designed to mitigate the effects of some arcing faults that may pose a fire risk
Homeowner Value
Built-in safety features, compliant with all advanced safety standards, for maximum protection of people and property.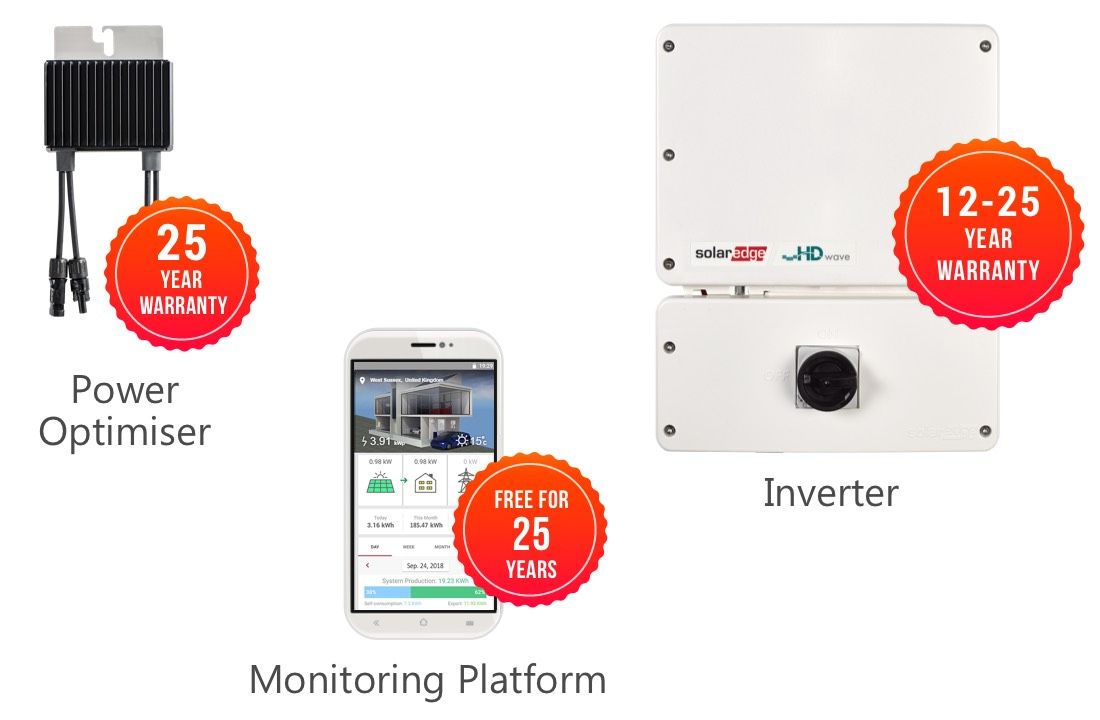 Long Warranties
SolarEdge products are field-proven and built for long-term performance: 
25-year power optimiser warranty

12-year inverter warranty

Monitoring free for 25-years
Affordable extended inverter warranties of up to 25 years are also available, with low-cost out-of-warranty inverter replacement. Refer to the SolarEdge website for more details on warranty extensions.
Homeowner Value
Protect the homeowners' investment by offering reliable, field-proven products, backed up by long-term warranties for their peace of mind.
SE INVERTERS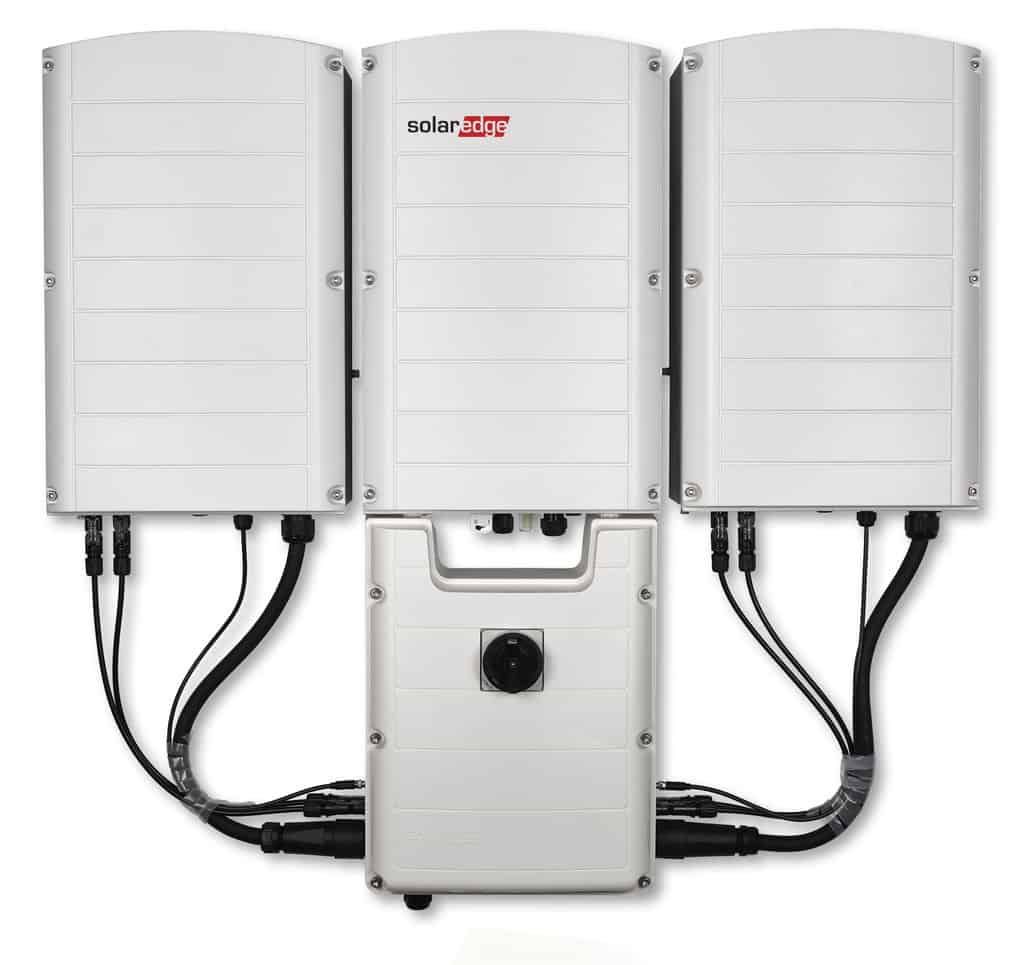 COMMERCIAL SOLUTION
Superior Efficiency (97.6%)
Small, lightweight and easy to install
Built-in module-level monitoring
Internet connection through Ethernet or wireless
IP65 - Outdoor and indoor installation
Fixed voltage inverter for longer strings
Smart Energy Management control
Compatible with the StorEdge interface
Integrated DC safety unit -
Eliminates the need for external DC isolators (SE7300 only)
hd wave inverters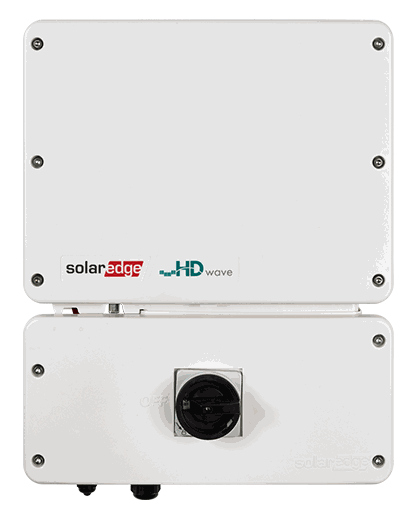 RESIDENTIAL SOLUTION
Specifically designed to work with SolarEdge power optimisers
2.2kW to 6kW inverter range
99% weighted efficiency
Small, lightweight, and easy to install
Up to 155% oversizing allowed
High reliability due to lower heat dissipation
Advanced safety features, including integrated arc fault protection
Quick and easy inverter commissioning directly from 
your smartphone using the SolarEdge SetApp
Extendable warranty up to 25 years
Contact Us for a Free Quote
You can call us today, or fill out the form below for one of our experienced staff members to call you and discuss the quote. If you prefer an emailed response please make a note of that in the message. Make sure you also let us know what suburb you are from too