How to Use Your Solar Battery During a Blackout
Lost power from the grid and want to make your solar battery last? Here's how.
If you've just been hit by a storm and the power in your neighbourhood has died, chances are you're looking for a way to keep your freezer from defrosting, cook your meals, and turn on a few lights to escape the darkness. 
Unfortunately, there are limited ways to solve these issues if you don't have a solar battery installed. You may own a generator, but the setup, noise, fuel, and smell can all be a pain to deal with, especially in bad weather. Integrating a generator into your electrical system can be costly and complicated.  A solar battery is the most seamless solution in case of a blackout and unstable weather events, as you can quickly divert your energy source from the grid to the battery and power your home. 
How do you do this though? And how can you maximise the finite power your battery has stored? 


The trick is to act fast. As soon as the power goes out, your battery should instantly disconnect from the main grid and will restore power to your property using backed-up, stored energy. If you notice this has happened, and you anticipate the power to be out for a while, it's recommended that you walk around your house and switch off any unnecessary appliances, lights, and other energy-users so that it doesn't waste any of your stored energy. 
It is not recommended to use energy-intensive appliances during a blackout, as these can chew up a good portion of your stored energy, reducing the amount you have for necessary devices.

Energy-intensive appliances include:   
Air Conditioners

Heaters

Dishwashers

Dryers

Washing Machines

Car Chargers
Standard appliances that you can let your solar battery maintain are:
Fridge/Freezer

Phone Chargers

Lights

TV

Microwave

Coffee Machine/Kettles
The size of your battery and the maximum output of kW it produces will also affect the number of devices you can have running, so be sure to take this into account so you don't overload your battery too quickly. 
Depending on what kind of battery you have installed, you can monitor usage and adjust settings to help maximise your energy longevity. Tesla Powerwall owners can use the Tesla app to put the battery in backup mode rather than self-consumption. Other battery systems, such as BYD, have manuals that can help you determine whether you need to adjust any settings. If you need assistance with this, contact your battery installer for guidance.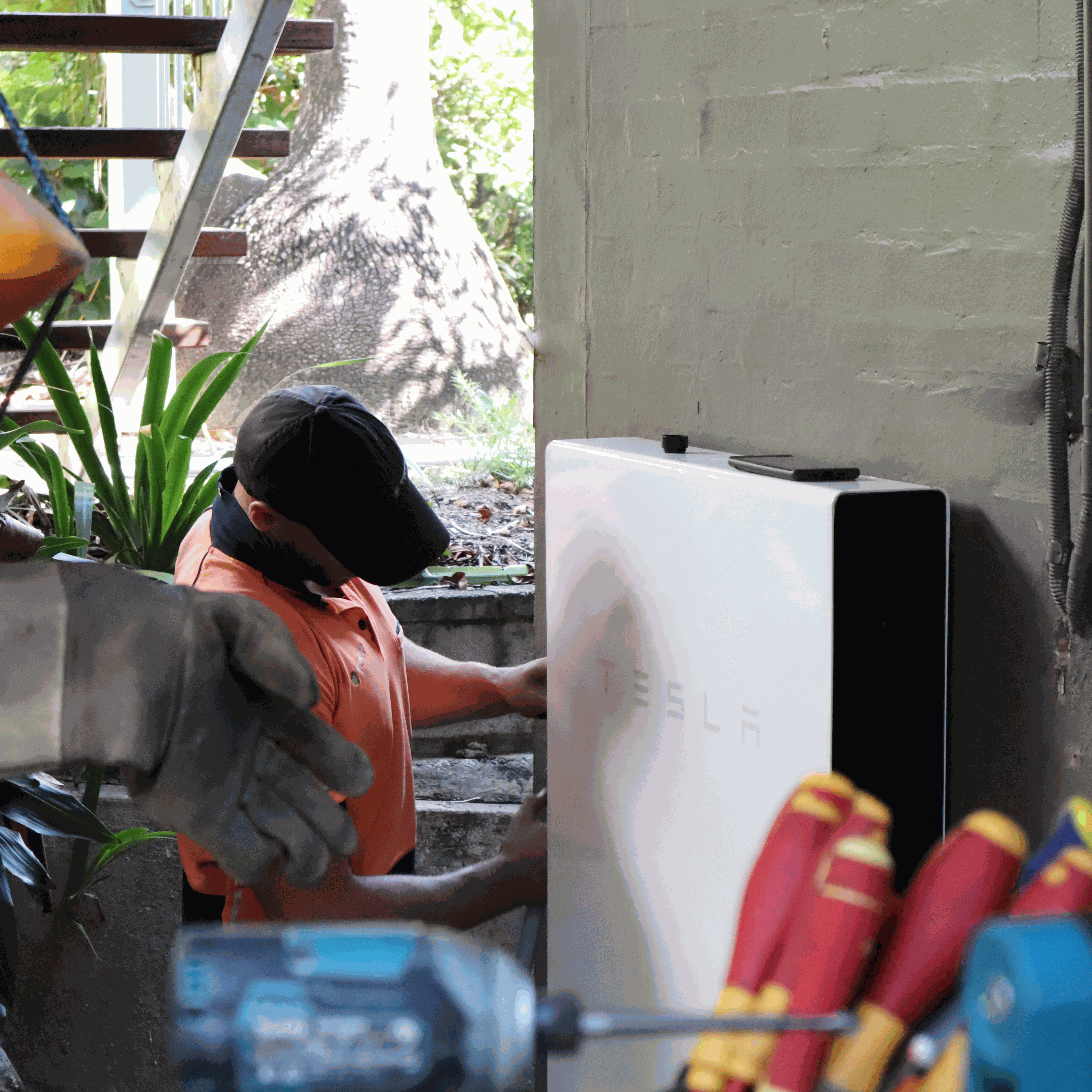 Preparing for Future Blackouts
When preparing for extreme weather events and the possibility of power outages, you can set up your battery system to respond efficiently when the moment comes. 
Tesla Powerwall has an app setting called 'Storm Watch' which you can enable. This means Tesla will monitor weather events in your area and will proactively retain more energy in advance for upcoming blackouts. If 'Storm Watch' hasn't been engaged for your area we suggest increasing your reserve capacity to 100% in preparation for the unlikely or likely event that you will lose power from the grid. 
It is also recommended that before a blackout occurs, you ensure all energy-intensive activities are complete, such as laundry, charging your electric vehicle, and cooling/heating your home.
Recharging from Solar During a Blackout
If you own a Tesla Powerwall 2 it will back up single-phase only. If you have a single-phase solar inverter system the solar will recharge the battery during a blackout. You can then charge the battery to 100% and use the excess available solar energy to run more energy-intensive appliances during daylight only. 
There are other brands that have three-phase options available that will also charge from solar during a blackout.


Power outages are a nuisance and can be detrimental to quality of life depending on how long you are without power. Installing a solar battery is key to ensuring energy independence during blackouts, and further to that, it is critical to understand how you can maximise your battery's stored energy to ensure longevity. Interested in finding out more about batteries? Click here. To receive a quote for a solar battery installation at your property, please use our 'Contact Us' form below.
How we can help!


Making the switch to clean, reliable energy is a sizeable investment for any Australian home or business. With countless considerations - system, size, design, components, and more - it can be easy to begin to feel overwhelmed. We can help! Springers Solar provides quality components with proven performance, backed by industry-leading warranties, and dedicated after-sales support. With over 20 years of experience designing, installing, and servicing solar energy systems and solar batteries, we know what performs for Australian homes and businesses. We take pride in only installing premium components with proven performance and align ourselves exclusively with manufacturers who have the same history of excellence. We are a Premium Certified Tesla Installer, an LG Platinum Solar Installer, and a Fronius Service Partner. 
Contact Us for a Free Quote
You can call us today, or fill out the form below for one of our experienced staff members to call you and discuss the quote. If you prefer an emailed response please make a note of that in the message. Make sure you also let us know what suburb you are from too